Infantile uterine enlargement
We work hard to create an exceptional experience for you during your treatment in Egypt. When you book through our website, you will receive a distinguished medical service inside Egypt. In your medical journey, we will provide you with tourism and entertainment services as well.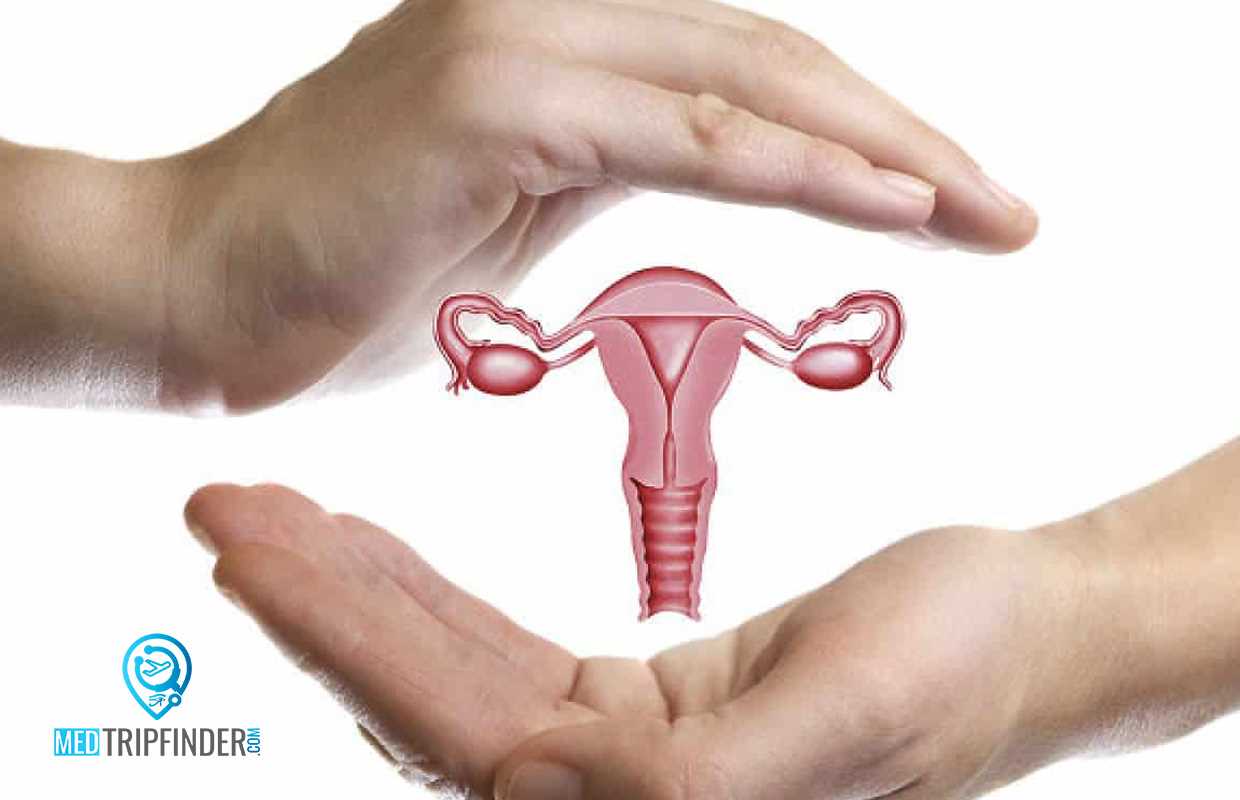 Infantile uterine enlargement
What is the infantile uterus?
An infantile uterus is a congenital defect that a female is born with. It is a very small uterus that cannot carry a fetus. If pregnancy occurs, miscarriage occurs in the early months.
Most cases of infantile uterus are congenital defects. However, there are some cases, resulting from the use of certain medications or other causes that we will discuss in this article.
Infantile uterine cases represent approximately 20% of women worldwide.
Types of infantile uterus:
1- Simple infantile uterus, which is a normal uterus but very small in size.
2- Elongated infantile uterus, which is a long and stretched uterus.
3- Deformed infantile uterus, which takes other shapes than the natural uterus shape, such as the T-shaped uterus.
Hope for a cure for the infantile uterus:
In the past, medicine could not treat infantile uterine cases and remained an obstacle in the face of women's hopes and dreams of pregnancy and motherhood.
Now, thanks to impressive medical advancements in obstetrics and gynecology, doctors have found treatments for some cases of infantile uterus, renewing hope for women through techniques and technologies that we will discuss later in this article.
Symptoms of the infantile uterus:
The presence of an infantile uterus is accompanied by some other symptoms, such as:
1- Absence or irregularity of the menstrual cycle in the girl despite reaching puberty.
2- Infertility and inability to conceive.
3- A very small vaginal opening or its absence.
4- Pain in the abdominal area.
5- A very painful menstrual cycle if it occurs.
6- Miscarriage if pregnancy occurs.
Acquired infantile uterus:
As we mentioned earlier, the infantile uterus is a congenital defect. However, in some cases, it can be an acquired disease, meaning that the girl is born with a normal uterus, but it shrinks and decreases in size due to one of these reasons:
1- Removal of parts of the female reproductive system, such as the ovaries.
2- Smoking and excessive alcohol consumption.
3- Severe weight loss and malnutrition problems.
4- Some diseases that the girl had in childhood, such as measles and rubella.
5- Psychological disorders or nervous system diseases.
Diagnosis of an infantile uterus:
The girl may continue to have an infantile uterus for many years without a diagnosis, as it is not a visible disease. However, when she reaches puberty, the girl begins to doubt and search when her menstrual cycle does not occur despite puberty and the appearance of other puberty signs.
It is diagnosed in the following ways:
1- Blood picture.
2- Ultrasound to obtain a clear image of the reproductive organs.
3- MRI to obtain a clearer image of the reproductive organs.
Treatment of the infantile uterus:
Several years ago, treating an infantile uterus was impossible.
In 2014, some cases of infantile uterus began to be treated. MedTripFinder is proud to provide some of the most qualified gynecologists in Egypt who have worked on treating infantile uterine cases.
Treatment began with hormonal therapy, but it was not effective as the uterus would shrink again once treatment stopped.
In 2019, one of the Egyptian gynecologists collaborated with an Indian doctor and found a way to treat a case of infantile uterus through laparoscopy.
•
Specific channels in the uterus were opened under the influence of general anesthesia to increase the internal space of the uterus.
•
Then continued on hormonal therapy for only two months.
•
After that, the uterus reaches its normal size, and the lining of the uterus increases in height. The hope and desire to become pregnant increase.
What are the prices for treating infantile uterus cases in Egypt?
As we mentioned, infantile uterine cases are one of the most difficult gynecological problems that require accurate diagnosis and very advanced treatment techniques. Therefore, the price varies from one doctor to another, and the hospital and the patient's condition also affect the price.
MedTripFinder and infantile uterine enlargement in Egypt:
Egypt, along with MedTripFinder, is proud that the first case of infantile uterus enlargement was performed in Egypt in April 2019 by one of the most skilled obstetricians and gynecologists in Egypt in collaboration with an Indian doctor. Therefore, we expect some cases of infantile uterus to come to Egypt for treatment and to achieve their dream of motherhood.