Laparoscopic Gastric Sleeve
We work hard to create an exceptional experience for you during your treatment in Egypt. When you book through our website, you will receive a distinguished medical service inside Egypt. In your medical journey, we will provide you with tourism and entertainment services as well.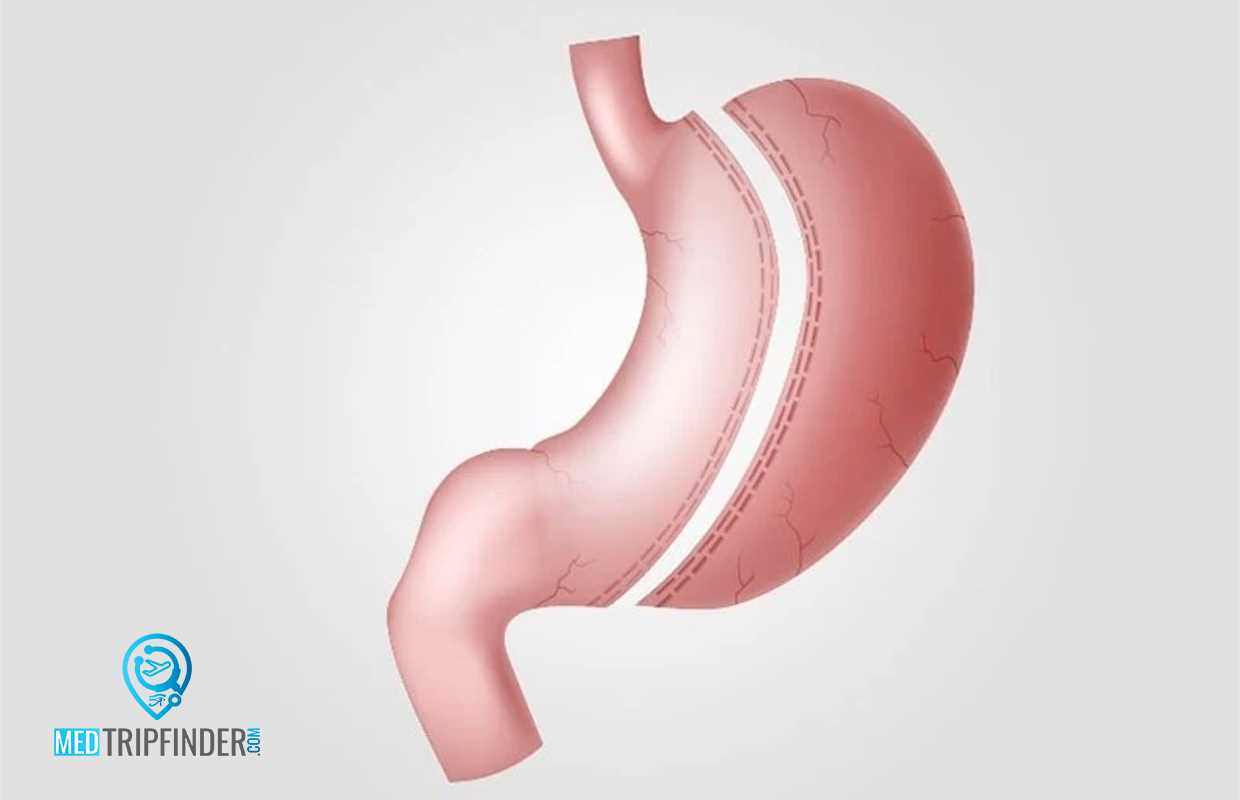 Laparoscopic Gastric Sleeve
Have you lost hope after many unsuccessful attempts to lose excess weight? Has your psychology been affected by the repeated failure of your persistent attempts to lose weight through diets or exercise?
There is no need to worry and continue the cycle of frustration due to the psychological and health problems that obesity may cause. Laparoscopic sleeve gastrectomy is now the optimal solution for easy and completely safe weight loss without pain.
All you have to do is read this article. We promise you will find everything about gastric sleeve surgery in detail.
What is laparoscopic gastric sleeve surgery?
It is a laparoscopic procedure in which the surgeon cuts off about 70 to 80% of the original stomach size and leaves only about 20% of its size.
The dome of the stomach, which is responsible for the feeling of hunger, is removed, so after the laparoscopic sleeve gastrectomy, you will feel full after consuming much less food than you are used to.
How many incisions are made by the surgeon in a traditional laparoscopic sleeve gastrectomy?
The number of surgical incisions is only 4, and each one does not exceed the size of 2 centimeters.
Do you know why gastric sleeve surgeries are called such a name?
Because the remaining part of the stomach is in the shape of a tube or resembles a banana.
How does the surgeon's skill stand out in laparoscopic sleeve gastrectomy?
The surgeon's skill is highlighted in his ability to cut the stomach smoothly without causing any irregularities or complications.
What type of anesthesia does the bariatric surgeon use in sleeve gastrectomy?
The type of anesthesia varies depending on the patient's condition, so it can be general, partial, or local. Talk to your bariatric surgeon to choose the right one for you.
How can I be sure that a sleeve gastrectomy is the right procedure for me?
If you eat a large amount of food daily and your body mass index is higher than 40 or 35 with other accompanying diseases, then you are a candidate for gastric sleeve surgery.
How is my body mass index calculated?
It is calculated using the following equation: weight / (height)2, which means weight divided by the square of the height, taking into account calculating weight in kilograms and height in meters, not centimeters. If you need help calculating your body mass index, contact us, and we will assist you.
10 reasons to choose laparoscopic sleeve gastrectomy:
1.
The duration of the surgery is only half an hour to an hour.
2.
You can leave the hospital after one day of surgery.
3.
You can resume your normal life after only 3 days.
4.
You will lose 65% of your excess weight within a few months and reach your ideal weight within a year.
5.
You will no longer feel hungry, so you will not be subjected to psychological pressure due to food deprivation during weight loss.
6.
You can eat your favorite foods but in smaller quantities.
7.
Gastric sleeve surgeries are now painless, especially with the PCA device.
8.
The safety rates for bariatric surgeries are now approaching 99%, so there is no need to worry if you choose the right surgeon.
9.
By beating obesity, you are on your way to a healthy life without obesity-related diseases.
10.
With weight loss and reaching your ideal weight, you will reconcile psychologically and socially with life and start enjoying it.
After the laparoscopic sleeve gastrectomy, what precautions should I take?
1.
Follow the special diet for the first 6 weeks after the surgery.
2.
Exercise after the surgery, walk after two weeks, and go to the gym after a month and a half from the date of the surgery.
3.
Contact your surgeon if any of the recommended instructions are unclear to you.
4.
Follow a healthy and balanced diet to maintain long-term surgical results. If you find it difficult to control your meals in the long term, banded gastric sleeve surgery may be the best option for you.
5.
Avoid soft drinks after the surgery as they help to stretch the stomach, which can lead to weight gain again.
6.
Vitamins and protein are taken for only 6 months after the surgery.
How can I choose a suitable bariatric surgeon for gastric sleeve surgery in Egypt?
Bariatric surgery has become very popular in Egypt. You will find hundreds of names in this field. But do not worry or hesitate; we have the best choice here on MedTripFinder website.