Tighten Sagging Skin
We work hard to create an exceptional experience for you during your treatment in Egypt. When you book through our website, you will receive a distinguished medical service inside Egypt. In your medical journey, we will provide you with tourism and entertainment services as well.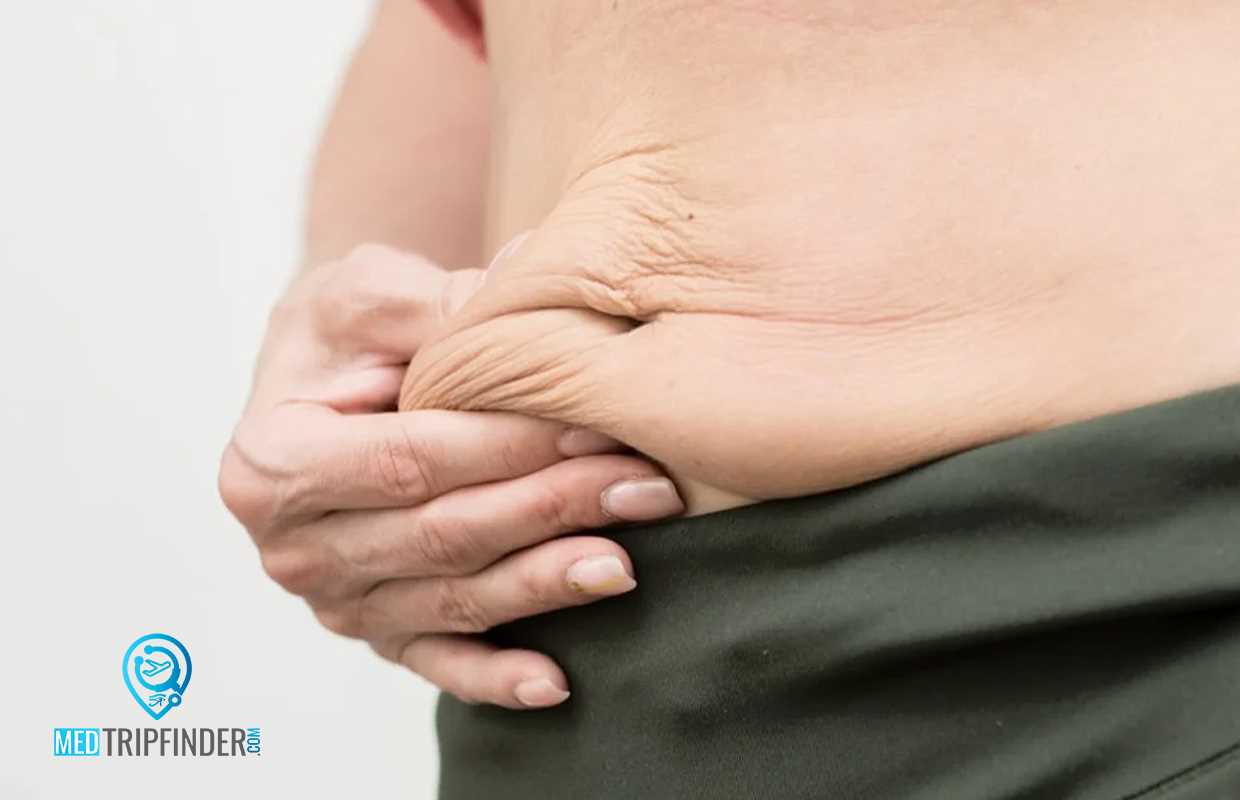 Tighten Sagging Skin
Tightening loose skin in the arms, abdomen, and buttocks:
With repeated weight loss or gain, your body often robs you of your happiness by revealing the ghost of sagging skin, which has always threatened anyone who decides to follow diets or undergo bariatric surgeries to quickly lose weight.
You are not alone, as many people suffer from such problems, especially sagging skin in the arms, abdomen, and buttocks.
So what is the solution? This is what we will learn in this article.
What is the solution for sagging skin resulting from rapid weight loss?
The best solution for sagging skin problems is skin tightening procedures, and the most famous areas that require this type of procedure are the arms, abdomen, and buttocks.
When do I need skin tightening procedures?
If you suffer from noticeable sagging skin due to the following factors:
1- Ageing, which usually accompanies muscle weakness and skin sagging.
2- Excessive weight gain (obesity).
3- Bariatric surgeries (such as gastric sleeve and gastric bypass) that are always followed by significant weight loss, resulting in skin sagging.
4- Traditional liposuction procedures sometimes result in some sagging.
5- Hormonal reasons specific to the body's nature.
6- Some wrong eating habits, such as not drinking enough water, can lead to skin sagging.
7- Weight fluctuations due to frequent weight gain and loss.
What will I benefit from after undergoing skin tightening procedures?
You will usually get a toned body without excess skin. You usually get an immediate result after the procedure, but you may need a month or two to obtain the final result and enjoy it.
Body skin tightening, step by step:
1- The patient undergoes general anesthesia.
2- A surgical opening is made in the sagging skin area. The length and size of the incision vary depending on the degree of sagging and the amount of skin that needs to be tightened.
3- Excess fat and sagging skin are removed, and the sagging area is tightened. This step requires a skilled plastic surgeon capable of performing the required tightening accurately to achieve the desired result without any trouble.
4- Finally, the surgical incision is closed cosmetically.
5- The procedure takes only about two hours.
5 points you need to know after sagging skin tightening procedures:
1- The initial result appears immediately after the procedure, but the final result appears and is satisfactory after complete healing of the surgical wound and the disappearance of swelling within about two months.
2- You should avoid strenuous activities and intense sports after the procedure until the wounds heal.
3- Plastic surgeons usually advise patients to wear compression garments to get the body used to its new shape.
4- Skin tightening procedures are the most popular procedures after rapid weight loss, so there is no need to worry because they are highly safe procedures.
5- After the procedures, don't forget to ask your surgeon about all the precautions that must be followed in detail, and you should adhere to them strictly to achieve the desired result.
How can I choose a suitable surgeon for skin tightening in Egypt?
If you need this procedure, you should carefully choose your surgeon to reach the ideal body you dream of without any complications and in the shortest possible time.
We offer you here on the MedTripFinder website, a group of the most important plastic surgeons in Egypt, with whom we guarantee you a successful surgery.